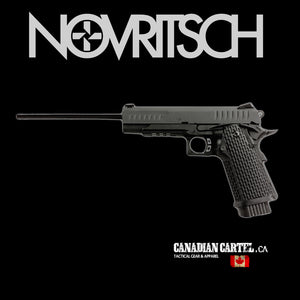 The NOVRITSCH SSP1 is a pre-upgraded, hard-kicking Gas Blow Back Pistol which is used with CO2 in Canada (1,25J / 367 fps).

It is an out of the box solution and doesn't need any further modification or tuning.  It is built to last and it will not let you down when you need it.
Includes: Pistol, CO2 Magazine, Valve Tool
Weight: 1020g
Magazine Capacity: 31 BBs
The CNC finished aluminum slide comes with serrations for easy gun manipulation. Drilled fluted grooves on the CNC machined aluminum outer barrel give the SSP1 the distinguishing NOVRITSCH look. It is threaded and can be equipped with a thread adapter for mounting tracer units or suppressors. Every SSP1 comes with an individual serial number laser engraved into the CNC finished metal frame.

Due to the extended slide catch, speed reloads are much easier to perform. The rough texture of the polymer grip feels great in your hands and makes sure that you are in control of your sidearm even with gloves on.

Both the adjustable front sight and the rear sight have white marks for fast target acquisition. With the ambidextrous safety, the SSP1 can be used by both left and right-handed shooters. Additionally, the functional grip safety makes sure that the SSP1 can only be fired when held properly.
Internals
STEEL SEARS AND HAMMER
To maximize the lifetime of the SSP-1, its hammer and sears are made of hardened steel for enhanced durability and reliability.
NOZZLE
The high pressure of a CO2 cartridge puts a lot of stress onto the nozzle of any gas blowback pistol. That's why the nozzle of the SSP1 is made of a highly durable polymer that can withstand these forces with ease.
MAGAZINES
The 31 rounds magazines come with a beefy rubber lip seal for improved gas efficiency. The high pressure of the CO2 magazine results in 1.2 Joule muzzle energy, lets the SSP1 perform very reliably even at cold temperatures. 
The Gas magazine provides 0.8 Joules with Nuprol Red Gas. The smaller fps is great for shorter minimal engagement distances at CQB areas.
Order more magazines here.
ACCURACY
The purple hop up rubber of the SSP1 is made of soft silicone which leads to a consistent performance that is barely dependent on the rubber's temperature. This in combination with the precise manufactured inner barrel makes for high accuracy. The adjustable metal hop up chamber is equipped with a bolt guide that stabilizes the spring guide for smoother operation.
What's included
The pistol comes with a CO2 magazine and a manual that includes a link to the exclusive NOVRITSCH SSP-1 video academy. The videos will not just show you how to maintain and disassemble your SSP1 but also how to manipulate it to be as efficient on the field as possible. The new valve tool is also included in the box.