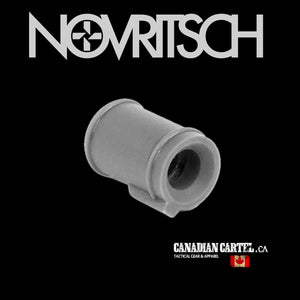 FULL THRUST hopup bucking for the SSG24 and the VSR-10. Made from soft silicone to create the backspin needed for the 6.44 mm BBs.
This bucking will not work with a default 6mm SSG24 as the nozzle will be too small without the conversion kit installed. It will not seal.
This bucking works with a standard 6mm VSR-10 as well.
Contact patch
The contact patch is in a triangular shape. The beginning of the patch is wide and provides lots of contact surface for the initial backspin, while the two prongs towards the end of the patch give the spin the right direction.