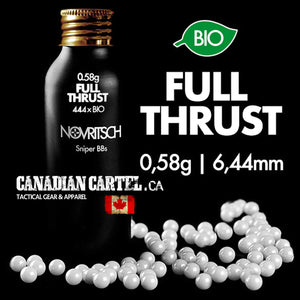 The FULL THRUST 0.58g BIO BB is 6.44 in diameter and can ONLY be used if your rifle has a FULL THRUST conversion kit installed. Do not use this BB in a traditional 6mm gun. It will damage it.
The heavier weight and the bigger diameter result in More Range, Better Accuracy and Stability in Wind. By shooting this BB you will experience all these advantages while still shooting biodegradable BBs and causing fewer injuries on the field due to the higher impact surface.
One bottle holds 444 pieces of FULL THRUST 0.58g Bio BBs.
Only use it with Full Thrust installed
BIO Certificate:
The 0.58g FULL THRUST BB is made from the same base material as the 0.46g Bio BB.
If you want to learn more about the degrading process here is More information
Color:
Pure white. No compromise. The whitest white possible.
You will always be able to follow the trajectory of your BBs in your crosshairs, Especially with the bigger diameter.
Practical:
The FULL THRUST BBs come in an aluminum bottle, which has a perfectly sized opening for the FULL THRUST Speedloader.
The rubber seal inside the cap will protect your BBs from getting dirty or moist.
Quality Control:
Before the FULL THRUST BBs get packaged and shipped they have to pass five steps of quality control. Four individual machines check the diameter of every single BB. Then a sample is taken from each batch and checked manually for diameter, weight, color and air bubbles to make sure that every FULL THRUST NOVRITSCH Sniper Bio BB meets the requirements.