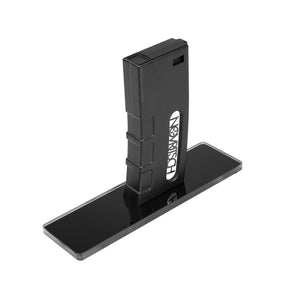 A stylish gun stand to accommodate standard M4 & AR15 style guns. Locks in place and is released like a regular magazine with the mag release button.
The reflective glass base plate and the branded support will bring out the best light out of your rifle. It will make for a fitting decoration whether it's in your room, living room, garage or mancave.
As an extra, you can Download 3D Print Files of Novritsch gun logos and after printing, you can proudly display them on your stand.
 Handle the stand with care to avoid scratches and cracks.