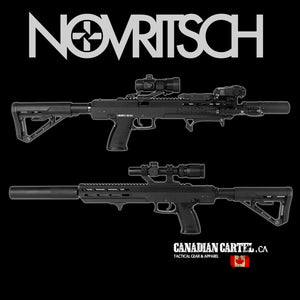 The SSX303 is the quietest Airsoft rifle ever. It is also the most universal platform which allows you to use it as a sniper rifle, assault rifle, or CQB gun. You choose what it will become!
Features:
Sniper-like

 

accuracy. Designed to shoot heavy BBs.
Semi-Automatic.
Very quiet.
Lightweight

 

full CNC aluminum body.

 

1.65kg

 

total weight.
No-tool HopUp adjustment.
1.7J – 2.2J power output for Canada. Get the SSX Nozzle Set to adapt the power of your SSX303.
Works in low temperatures.
Compatible

 

with SSX23 Magazines.
MLOK, standard 14mm CCW thread for suppressors.
Adjustable

 

length. 640-720mm
Complete rifle out of the box. Not a conversion kit.
Extensive video library with courses and guides.
Designed by passionate Airsoft players in Vienna, Austria.
Vienna-based Tech support team.
The rifle comes in a black cardboard box. Not in a gun case.
Follow this chart to make sure your magazines will last for a long time and to get the best performance out of your SSX303:
| | | | |
| --- | --- | --- | --- |
| Temp. | Ideal Gas | <1.5J | >1.5J |
| <5°C | not recommended | | |
| 5°C to 10°C | Super High Pressure | 0.32g BBs | 0.46g BBs |
| 11°C to 20°C | High Pressure | 0.32g BBs | 0.46g BBs |
| 21°C to 25°C | Medium Pressure | 0.32g BBs | 0.46g BBs |
| >25°C | Low Pressure | 0.32g BBs | 0.46g BBs |
BE QUIET.
The loudest sound your enemies will hear is the impact of a heavy BB on their gear. The SSX303 is the most quiet gun you can find.
SEMI SNIPER.
The SSX303 will shoot with each trigger pull giving you a huge advantage over the enemy snipers. You can shoot much faster while having the ability to send the whole magazine within a few seconds. That makes a difference.
YOU CHOOSE.
Set it up to fit your play style. From the sneaky ghillie sniper to the fast CQB player. Scope or red dot, it's up to you.
ACCURATE.
The Maple Leaf 303mm long inner barrel gives the SSX303 an incredible accuracy out of the box. Regardless of the setup you choose, it will always come with sniper-like accuracy even if you use it as a CQB rifle
DESIGNED FOR PLAYERS, BY PLAYERS.
The SSX303 has been designed with usability in mind. From the no-tool hop up adjustment to stabilized barrel and Full CNC, solid body. Take it to a game and you will love it. Your enemies will hate it.
FEATURE OVERVIEW
The design of the carbine is slick and utilitarian.  You will definitely appreciate that in the game! Let's go over the features.
LOOK
You can find all the useful features there like QD mounts and MLOK, while useless stuff has been cut down. This minimalistic approach allowed us to keep the whole platform very lightweight and versatile.
POWER
Depending on the setup and your field, you will need to regulate the power output of the SSX303. That is very easy.
First, you can choose between stronger or weaker gas and second, you can replace the nozzle inserts to dial it in perfectly. Nothing limits you.
SAME MAGS
You don't need to carry extra magazine for your pistol and your rifle. The SSX23 magazines are compatible with both. You can also use the same BBs which will simplify your game preparation a lot. No more mixed speedloaders with different BB weights.
ALL ROUNDER
The minimal length is about 65cm which makes it very maneuverable in CQB. Attach the modular suppressor and 1-4x or a red dot and you have a perfect assault rifle that is very quiet. Step it up a notch, put a big scope on there and a long suppressor and you have a deadly sniper rifle with more than enough power.
ACCURACY
The precision Maple Leaf inner barrel is 303mm long and the outer barrel is stabilized within the CNC body of the rifle. Zero movement, maximum accuracy.
GO TOOLLESS
The TDC hop up adjustment requires nothing but your finger. The wheel is smooth and gives you infinite adjustment so that you can use the heaviest BBs available and dial the gun precisely where it needs to be regardless if you prefer overhop, right on crosshair or underhop to shoot over obstacles.
HOLSTER UP
Believe it or not, the whole carbine can be holstered. It is compatible with the SSX23 holster. If you don't need just put it away so you can use the SSX303 as your secondary backup rifle. Cool right?
ACCESSORIZE
MLOK on the front gives you plenty of space to attach anything you might need on the rifle. Flashlights, PEQ boxes, hand stops and more.
Or leave it empty. It's very comfortable to hold as it is!
CUSTOMIZE
The buffer tube of the SSX303 allows you to put lots of different stocks on the carbine if you prefer a different one. However, we think that ours looks pretty good already. Your call!
QUICK DETACH
In the back, you will find a QD mount for your sling. Super fast and convenient. Just click your sling into place and you're good to go in a one-point setup. If you want to use a two-point sling for more stability, there is another QD on the stock ready to go.
WHAT'S INCLUDED?
OUR DEV TEAM
Our team of experienced airsoft technicians have checked and picked every part that goes into the rifle to make sure you will have a great time with it and that you will have no issues down the line.
As always we don't recommend any internal upgrades as those are simply not necessary. We've done it for you so that you will have the best experience out of the box. There is no need to spend more money on upgrades.
Just go to the field and enjoy the SSX303!
ACCURACY
Pre-installed is the Maple Leaf Autobot 50° bucking paired with a flat stainless steel pressure plate and Maple Leaf 6.02 precision inner barrel. The gen2 TDC cover has no wobble at all and fits very snug on the hop up chamber.
SNAPPY TRIGGER
The gas route of the SSX-23 magazines is made of hard rubber. This results in a snappy and reliable trigger return. The magazine's shaft has been made extra tight around the magazine to ensure the correct alignment of the gas route and the nozzle.
MAGAZINES
The feeding slot is enlarged on the bottom of the magazine to ensure an easy and comfortable filling. With the redesigned Feedlips Gen2 you will not experience any feeding or double feeding issues.