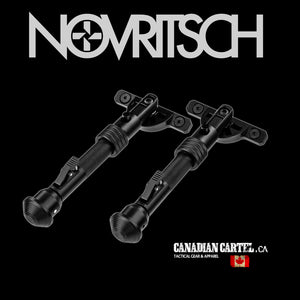 Heavy duty bipod that will give your gun a distinctly unique look on the field!
Attaches via MLOK to the side of your rifle.
With the split bipod mounted, the SSG-10 A2 & A3 become too wide for the gun case and can crack it during transport. A Gun Bag will be the better choice for transport, if you want to use this bipod.
Gun Compatibility
| | |
| --- | --- |
| SSG10 A1 | No |
| SSG10 A2 | Yes |
| SSG10 A3 | Yes |
| SSG24 | No |
| SSG96 | No |
VERSATILE
When folded, it sits flush with the stock and does not protrude on the bottom like other bipods do. Therefore, it doesn't force you to peak out of a cover more than is necessary.
SOLID
In every position, it locks securely in place. When locked, it will not move forward or backward like other bipods do.
Works just like a standard bipod but it gives you the option of choosing the right angle.