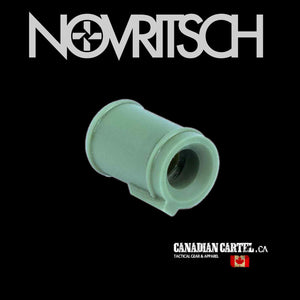 The hop-up rubber is made of soft silicone with an extremely high friction coefficient. Due to the material combination, it works perfectly even in temperatures as low as -25°C. It can hop BBs up to 0,46g and with the heavy BB hop-up arm, it lifts 0.49 BBs easily. No R-hop modification needed.
It fits tight inside of the hop-up chamber ensuring a 100% seal. When you clog the inner barrel with your finger and pull the trigger, the piston will stop before hitting the cylinder head due to the perfect air seal.
Make sure the rifle is unloaded before trying this!