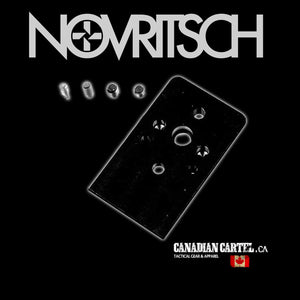 This red dot plate allows you to mount the Micro Reddot onto the SSP-1 as close to the slide as possible for easier aiming and low profile.
The rail is CNC machined from lightweight aluminum.
Compatible with the cut-out slide
Includes:
Red dot plate
Mounting screws
SETUP
When compared to the standard NATO / Picatinny rail, the red dot attaches directly to the plate.
Therefore, the red dot sits as close to the bore axis as possible. This makes a considerable difference in both speed and accuracy since it is easier to find the dot in a stressful situation.
CQB BEAST
The precision of the SSP-1 paired with a red dot makes it the perfect CQB companion.
Compared to the standart sights, it is much easier to shoot the pistol on the move! Fast and accurate follow up shots are the key to success!
HOLSTER READY
The red dot plate was designed in a way that it doesn't interfere with the SSP-1 holster. Therefore, the pistol can easily be used with most existing holsters on the market even if the red dot is attached.