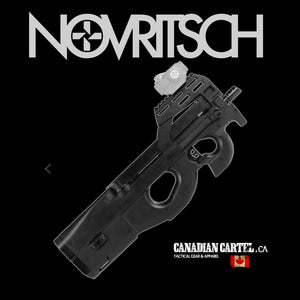 P90, arguably the most iconic submachine gun in history now in a completely redesigned, pre-upgraded package tailored for the most demanding players out there.
Features:
Redesigned Exterior & Internals

 

with a ton of features.
Programmable Electronic Trigger Unit

 

(incl. burst, binary, pre-cocking, battery protection, and more.)

 

Click for Guide
∼25 rounds per second

 

with high-speed gears (12:1) and 11.1V battery
Modular

 

Aluminium Receiver
Fiber Reinforced Nylon Body
Accurate

 

due to rotary CNC & TDC hop up chamber & Maple Leaf custom flat bucking.
6.03 precision

 

inner barrel
Fast trigger response with high torque neodymium magnet motor
Enlarged battery space

 

and rubber recoil pad.
Fully

 

Ambidextrous controls and QD sling points.
Two-stage trigger

 

on full auto (like AUG)
Modular Flat

 

Trigger.
Quick Spring Exchange.
Colored accessories (coming soon)
Extensive

 

video library

 

with courses and guides.
Designed by passionate Airsoft players in Vienna, Austria.
Vienna-based

 

Tech support team.
Length: 50 cm
Weight: 1.9 kg
The  battery is not included. 

1 magazine included
Recommended Batteries: 
Recommended Batteries and BBs:
1.4-1.6 Joules:

 

11.1V Battery & 0.32g BBs
TAKE CONTROL OF CQB
The SSR90 is made to seize every opportunity given by the style of close-quarters battle. The airsoft P90 package allows you to fit all the tight corners while maintaining supreme firepower, accuracy and solid performance. A feared combination.
ALL IN ONE ICON
The P90 design is universally recognizable - regardless if you are a Stargate fan or a CS:GO B-rush type. The airsoft version of this compact bullpup submachine gun combines many proven concepts. The size makes it perfect for an "always-on-the-move" playstyle. On the other hand, the relatively long precision barrel and CNC Hop-Up unit combined with enough muzzle energy give you the opportunity to engage targets both in urban and woodland fields. This is the way!
DESIGNED FOR PLAYERS, BY PLAYERS
With many years of first-hand experience playing airsoft, we know what to look for in an AEG design. With this fire rate and trigger response, the prey can't get away.
FEATURES
The SSR90 utilizes the original design's benefits while bringing modern airsoft parts and extra features to the table. You won't find a similar airsoft P90.
IMPROVED FEEL
Our SSR90 is made out of sturdy, fibre reinforced nylon. This makes it feel solid and eliminates the risk of the gun randomly breaking.
We have also enlarged the recoil pad, making the SMG more comfortable to hold. Moreover, this enables the use of a larger battery. It's a win-win for sure.
SLING-READY
Unlike many other P90 designs in airsoft, the SSR90 is ready to be used with a standard sling. That is thanks to the standard Quick Detach mounting points which are ready on both sides of the gun. No more hassle, just Plug'n'Play.
TRIGGER UNIT
This replica has an electronic trigger unit already pre-installed, which is great if you prefer firing in short bursts. It also gives the rifle a super fast response time. It has all the bells and whistles you would expect in 21st century, including binary trigger. More on that in the tech part below.
ACCESSORIES
Our P90 platform is made to be customizable. The upper mount offers a standard Picatinny rail on the top for your aiming device, as well as M-LOK mounts on both sides for more accessories. When you detach the upper mount, there is an optional aftermarket rail for your compact red dot. Furthermore, the gun has a 14 CCW thread that is suppressor-ready. If you still feel like putting on more accessories, you can always grab our M-LOK Front Extension. That allows you to fit a low-sitting PEQ box or zoom camera on the SSR90.
CNC PRECISION HOP-UP
No compromise here. The SSR90 needed to be both stable and accurate. That is why the Novritsch airsoft P90 offers a CNC machined rotary Hop-Up unit with a custom FlatHop by Maple Leaf already preinstalled.
BARREL ASSEMBLY
The SSR90 Hop-Up solution is unique to the entire airsoft market. It combines the best features that came up throughout the system's development. Precise CNC manufactured chamber as a solid base, a true Top Dead Center mod (TDC) for super-consistent and accurate Hop-Up, a rotary wheel for easy and stable adjustments and an O-ring for zero wobble. However, the crown jewel is in fact the Flat Hop that the SSR90 has out of the box! The pressure point is exactly where you want it to be and the Hop-up rubber never wears out - that's otherwise a common AEG problem.
Scroll down for more details in Tech breakdown.
AMBIDEXTROUS
With regards to the original design, we have made the whole SMG fully ambidextrous. This leftie-friendly gun is ideal for CQB environments, where switching shoulders helps you conceal a large part of your body. Also, the sling mounts come ambidextrous.
TWO-STAGE TRIGGER
Modern flat trigger with a two-phase pull. When full auto-selected, you can use short pull for semi, long pull for full-auto. This system allows you to be in control. No button switches midst a CQB fight, that's for sure. Yeah, and you can put it in different colours as well because the trigger is removable.
GEAR COMPATIBLE
The SSR90 comes in with a 100 round transparent magazine and 180 rounders are available as an aftermarket option. Even though these do not fit a usual AR-15 magazine pouch, fear not, Novritsch has designed our own tactical pouches. Just grab some of those and your gear will be ready for the new SMG.
TRULY QUICK SPRING EXCHANGE
With some quick spring exchange guns, you still have to take the gearbox out of your gun in order to change your spring. Lowering your gun's performance then becomes a painful process for half an hour. Not with the SSR90. Pop out the recoil pad and you are ready to make the adjustment. Done in under a minute.
TAILORED RECOIL PAD
Extended recoil pad for better ergonomics of this very short gun. Rubberized and angled at the bottom for more comfort when shouldering and bringing up the gun. Additional pace for wiring of the battery. Now you can fit a big chuncky block battery in there.
QUALITY CONTROL
When putting the SSR90 internals together, our senior technicians paid close attention to every single detail, thus "the machinery" inside our P90 won't let you down. Moreover, years of experience building custom AEGs have given us the means to improve Quality Control.
The key to building a great AEG is not only the parts themselves, but how they work together. The SSR90 works, all the way from the LiPo battery to the tip of the precision barrel.
ACCURACY
CNC Chamber, TDC design, Flat nub, Rotary adjustment, Maple Leaf 60 degree bucking.
If you don't know what that means, no worries. The SSR90 is super accurate and can hop heavy BBs.
When it comes to accuracy, the heart of the SSR90 is the full CNC hop up chamber with TDC design and rotary adjustment wheel for comfortable, precise adjustments on the go. Pre-installed is the custom made Maple Leaf bucking with FlatHop nub and 60* hardness which provides a superior seal and hop-up effect. In addition to the bucking, the Flat TDC tensioner has been installed which ensures that the rubber is under even pressure and that the BBs don't curve to the side.
SPEED
The custom ETU, or Electronic Trigger Unit is responsible for the snappiness of the whole system. Its features include adjustable pre-cocking, 3 round burst option, full-cycle control, battery protection, active breaking and low battery indication. The speed of the whole system is supported by the 12:1 CNC steel gears and 24K High-torque motor with super strong neodymium magnets.
As the cherry on top, the SSR90 has Binary trigger mode because why not? 21st century right?
What is a binary trigger?
DURABILITY
A fast-firing rifle is useless if it breaks. That's why we use only the best parts. Let's go over them together.
As mentioned before, the gun comes with CNC machined steel gears - these won't let you down.
To hold the gears in place, we chose 8mm bushings. Compared to bearings, they are sturdier and more reliable. Moreover, they offer supreme durability and low friction.
The piston is equipped with ported CNC machined aluminium head and a full steel rack.
The cylinder head is made of CNC aluminium with a nice beefy rubber dampening pad with a custom design that makes the system quieter, gives a longer lifetime of the gearbox shell, and correct Angle of engagement. The cuts in the rubber give it optimal airflow.
As we're not living in the past, we chose Deans as battery connectors. They feature less resistance and provide better conductivity.
IMMORTAL HOP-UP
Besides all the special features, the SSR90 comes with a special Flat hop. Thanks to it, you'll never have the problem of a worn Hop-up rubber again. The SSR90 has a custom 60° Hop-up rubber by Maple Leaf. This one has no anti-rotation rim or nub. That means you can prevent irregular wear just by turning the rubber a bit. This is a unique solution to ensure an immortal Hop-Up system.
CNC COMPRESSION PARTS
Ventilated, full CNC piston head to ease the airflow in the cylinder at high speeds. More vents, less friction, higher rate of fire, better response time. Simple as that.