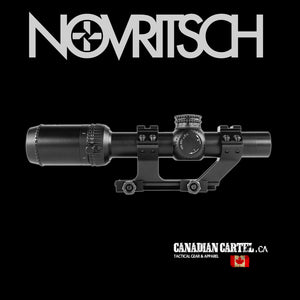 A variable scope that gives you the best of both worlds. At 1x magnification, it can be used almost like a red dot while still giving you the option to zoom in 4x when you need to see more.
Quick scope adjustments are easy even with gloves on.
Illuminated reticle. Green & Red. CR2032 Battery
Especially suitable for DMR setups for mid to long-ranges.
Comes with a metal, lightweight NATO/Picatinny mount.
Features dioptric adjustment.
Batteries are not included.
Not compatible with SSG10 Gen1 Rail. To mount this on the SSG10, you need the Gen2 Rail.


FILL THE GAP
A variable scope fits exactly between a red dot and a sniper scope and brings benefits of both worlds. On 1x magnification, it can be used in close quarters combat almost like a red dot while still giving you the ability to zoom in when you need to take a long-range shot. Perfect for DMR setups.
SHARP
Mil-dot crosshair is universal and gives you a fine aiming point. It is also illuminated for low light situations.
The scope has a dioptric adjustment so you will always get a perfectly sharp image.
FAST
On the zoom ring, you will find a throw lever which makes it super fast end easy to adjust the magnification on the go. It will also help you to verify on the go which magnification you're in which is not always so easy during an airsoft fight. You can also remove it if you prefer to do so. We wouldn't recommend that though. It's super handy.
BATTERY
The scope takes commonly available CR2032 batteries. Since this is the "fatter" type, the illumination will last for a long time.
The adjustment wheel also feels very solid and tactile. Just like it should be.